Programs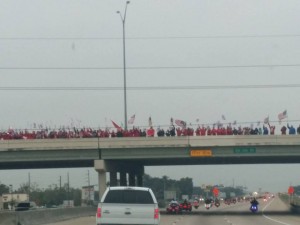 Operation Overpass is an opportunity for citizens along I-10 from Houston to San Antonio to participate in our Veteran's Day Salute. VFW Lodges, American Legions, Boy Scouts, Church groups and Schools have participated in standing on the East side of the overpasses in their community and saluting and celebrating our riders, veterans and wounded soldiers that make the trip to Fort Sam Houston. It is an emotional and meaningful symbol of American PRIDE when you look up and see citizens of all race, age, and religion, waving the American Flags in honor of our Veterans and this event.
If you are interested in your group getting involved, please contact Susie McAdams.
This is 2014 Texas Honor ride as we rode under the Pin Oak Exit in Katy, Texas.
This is quite a send off to BAMC, provided by the Katy High School Bengal Brigade and Cheerleaders, the Katy VFW, and many volunteers from the City of Katy.